I'm so excited to finally share my newly made-over kitchen with you! I never wanted to post pictures of it before, because it was so small and boring. Narrow galley kitchens don't leave room for much creativity, but you can make big changes, even in a small space. For those of you with tiny kitchens, there's hope!
Here's the before.
Meh.
The dingy beige paint made the room feel dark and small, and
even my realtor
made fun of the ugly green laminate counter tops. Don't you want to send that counter back to the '90s, where it belongs (along with
verdigris finishes
and
ragged walls
)?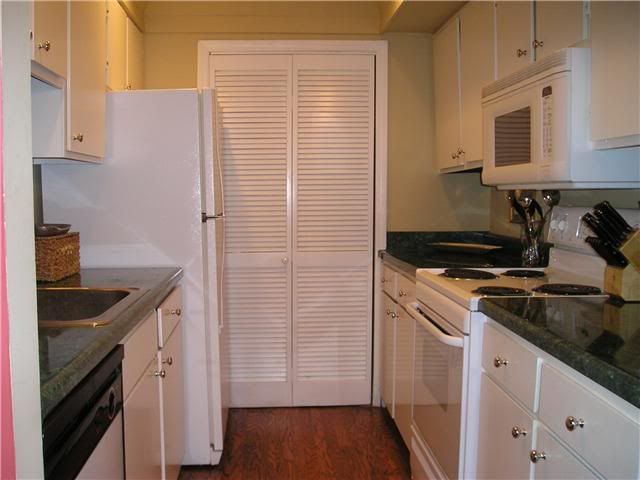 hate hate hate hate hate hate hate
When Keith and I returned from Disney, we came home to a completely revamped kitchen. My creative and thoughtful parents surprised me with a kitchen makeover for Christmas! They did all the work I've been meaning to do for, like, ever. And they did it exactly how I wanted it:
I'd been talking about remodeling my kitchen for months, chosen my colors and finishes, and even purchased a new sink and faucet. I just didn't, you know, follow through.
So my sneaky Mom found a cheap granite remnant that matched my color scheme and had it all done while we were in Florida as my Christmas present! Dad repainted the kitchen himself, using the paint left over from
my dining room redo
(FYI, the color is Silver Screen by Behr). And while they were at it, they installed my new sink and faucet.
Best parents ever. Now the kitchen looks
fresh, bright, and a little bigger.
Um, ignore the wonky copper wire! We haven't reconnected the water to the ice maker yet.
I was so excited to share the kitchen, I didn't realize how stupid that would look in pictures. Oops.
First, check out the new counters. I wasn't sure if I'd like granite, and a small part of me is afraid it's going to start looking dated very soon, but I do love my new counter tops. The color is called Colonial Cream. Compared to
swatches of this color I've seen online
, it looks much whiter and brighter in person. It has fewer rust-colored veins, and more pretty garnet-purple spots. If you found this post because you want to see what Colonial Cream granite looks like after it's installed, I hope that info helps.
Minor details can make a big impact, and I think it's important to note that the same paint was used on the backsplash and the ceiling. It draws the eye up (and up!) and makes the room look taller and feel bigger. Also, I replaced the old light bulbs with
GE Reveal bulbs
, which give off a brighter, prettier color of light. I think good lighting is overlooked too often. But it's so easy to change, and relatively cheap. Compare the room's general brightness in the Before and After pics, and I think you'll see a huge difference.
Finally, check out that hardware. I'm crazy about the gracefully curved faucet, the sprayer, and the fact that the faucet is so high, it doesn't get in the way when I'm washing big pots and pans. I'm not so crazy about the drop-in stainless steel sink, but at least it's not scratched and dinged like my old sink. In a perfect world, I would've chosen an undermount sink (so swanky!), but couldn't get one and stay within my budget. And I'm 100% okay with that. It gives me something to look forward to in the future.
Thanks for looking, and let me know if you have any questions about what we did.
I really, really, really don't mind talking about paint colors and stuff.
*grin*