My first home was a condo in Nashville, just a stone's throw from the famous Bluebird Cafe. I bought it in 2007, two and a half years before I met my husband. It's where I earned my Master's degree, shared my first kiss with Keith, and took an interest in interior design. I made some hilariously bad rookie mistakes, like painting the walls blood red and pushing all the furniture against the wall, but I learned. The condo was built in 1969, and Mid-Century furniture looked wonderful there.

When you entered the condo, you found yourself in a hallway that led to the dining area.
To the right of the dining table, there was a tiny galley kitchen. I didn't do anything to the kitchen until a neighbor's water heater burst and flooded my place in 2012, and the floors had to be replaced. After that I painted, replaced the dated green laminate counters with a granite remnant, and put in a new sink and faucet.
The dining area opened into the living room.
This photo was snapped when the dining room still had red walls.
At one point, the living room AND dining room were red, and I had a post-it note wall.
My best friend called it "the installation." I loved watching people react to it.
When Keith and the dogs moved in, the living room rug went away and I hung his Firefly fan art on the walls.
This is how the room looked when I lived alone.
I loved having my easel set up in the living room.
If you made a left turn at the front door when you entered my place, you'd find the bedroom and bathroom. I was so proud of the changes I made to the bathroom. While I lived there I painted the room, replaced the squishy wood floors (ew!) with black granite and added a marble threshold, put white subway tile in the shower, and replaced the toilet.
When I moved in, I purposely made my bedroom look as girly as I possibly could. I had a feeling it was the last time I'd be decorating a bedroom as a single woman. I painted all my furniture black, and painted the walls periwinkle because it was my favorite crayon when I was a kid. My Mom made the upholstered headboard and damask bedskirt and pillows. I loved this room. But a few years later, sun exposure turned the walls a sickly pinkish-purple. Sad times.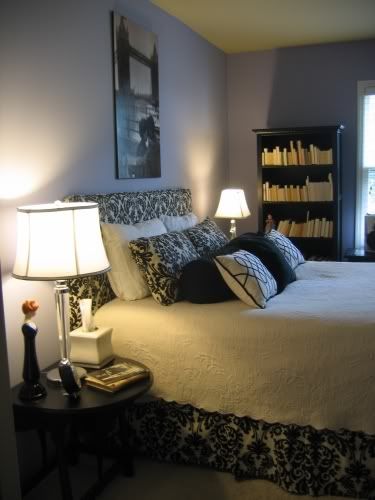 After that I painted the room gray and experimented with very bright colors. It didn't look great, but I learned that I do not like gray with purple undertones, and I don't like living with bright colors as much as I thought I would. The best thing about this room was the art I painted to go over the bed. I still love those pictures.
In June 2014, we moved out of the condo and into a house on the outskirts of Nashville. The house is Tudor style, as imagined by architects in 1988. It has very high ceilings, lots of windows and natural light, and a semi-open floor plan. I'm looking forward to trying more neutral color schemes, different furniture styles, and designing a built-in bookcase for the new house. Onward!